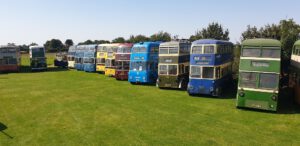 The Museum collection doesn't just include trolleybuses!
We have 15 motorbuses and 11 tractors or support vehicles as well as over 55 trolleybuses. We believe this is the largest collection of preserved trolleybuses in the world.
Many are fully restored and operate on Trolleydays; some are stored away from the Museum premises whilst others may be away temporarily for repair or other heavy work.
In this section you'll find detailed information on our vehicles and static exhibits. Click on the links below the images to see more detail.