Booking a Sales Stand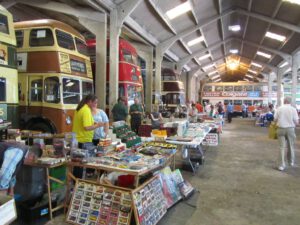 Whilst sales stands are available at all our events, for the Sandtoft Gathering we also provide indoor pitches in our main depot building. These vary in price, depending on the size, type and location – see the map below. Outside pitches, whether besides an entered historic vehicle or on the grassed area in the centre of the trolleybus running circuit, are priced at £18 for a 12ft frontage.
For the Gathering, there are some conditions and restrictions which apply to all stallholders:
Sales stands adjacent to displayed vehicles are chargeable and subject to the conditions for stall holders.

Two stallholders per pitch get free admission, but you will still need to present a ticket voucher to enter the Museum.

Additional stallholders and others accompanying a stallholder MUST pay normal entrance charges. The purchase of admission tickets in advance will speed your entry to the Museum. Prices and the ordering facility are on the on-line form.

Booking is via this website, using the on-line form below.

Normally we will send you an e-Voucher via email for your admission tickets. However if you would prefer a paper  voucher please add postage on the on-line form.

All vehicles must be insured for use both on and off the highway. Only authorised and insured drivers holding a full driving licence for the class of vehicle involved may drive vehicles within the Museum and on land used by the Museum for this event. Please note that much road traffic law, including drink- and drug-driving legislation, also applies to driving on private property where the public have access.
Stallholders will be allowed to bring vehicles on to the trolleybus running circuit only for the purpose of unloading and loading your stand and stock. All stallholders' vehicles must be removed from the circuit after unloading and parked in the car park or vehicle display area as appropriate by the time the Museum opens at 10am.
Stallholders will be permitted to bring their vehicles back on to the running circuit after 5pm for loading. We're sorry – we can't allow vans, cars etc on the running circuit outside these times.

The Museum does not provide any equipment – only the space. Outside stallholders are advised to bring their own protection against the weather.

The Trolleybus Museum at Sandtoft cannot accept any liability for any loss or injury howsoever caused.
Click on the map to see an enlarged version: